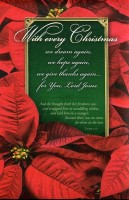 With Every Christmas (Christmas Bulletin)
With Every Christmas we dream again, we hope again, and we give thanks again...for You, Lord Jesus.
"And she brought forth her firstborn son, and wrapped him in swaddling clothes, and laid him in a manger, because there was no room for them in the inn." Luke 2:7.  Package of 100.