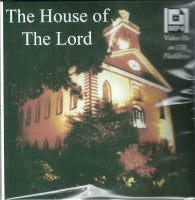 The House of the Lord (Flashdrive)
Seventy T. Evan Thomas, as narrator, shares details of the design of The House of the Lord that few visitors to the temple have heard.  Tommy Thomas was born and raised in Kirtland, Ohio, and he served many years as a temple guide.  Faith-strengthening testimonies, exquisite photography, and songs of praise are intertwined with historic documentation.  All of this is shared in loving tribute to the craftsmen and the people who committed their lives to the construction of this temple.
This is an MP4 video on USB, which will play on most computers, "Smart" TVs, and most video media devices with a USB port.