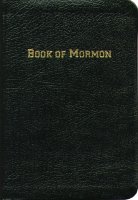 Deluxe Book of Mormon Printing Fund Donation ($5 and up)
Please select the amount that you wish to donate from the drop-down box above. If you do not find the exact amount you wish to give, you can either add different amounts to your cart or change the quantity of this item in your cart.
Price Publishing Company has approved a bid to reprint the Deluxe Edition of this treasured book. We have just made a down payment of $27,000 for this reprint. However, we will need to pay an additional $38,000 (plus delivery charges) by the time we can take delivery of this order. Due to high demand, we are almost out of this Deluxe version, and if it is not reprinted now, it could soon be unavailable.
This version is an exact photocopy of the RLDS Authorized 1908 Edition as copyrighted in 1953. The Deluxe edition features a soft leather cover (that can be even more durable than the hardback), gold page edges that mitigate deterioration by blocking finger oil intrusion onto the pages), and thumb indexes (which can reduce wear by minimizing fanning when searching). It also includes helpful headings at the top of the pages and useful scriptural cross-references at the bottom of the pages.
We appreciate any amount that you can contribute to the Deluxe Book of Mormon Printing Fund. We are a not-for-profit organization per Section 501(c)(3) of the IRS Code, so a tax-deductible receipt will be sent to you.
Thank you so much for your contribution!