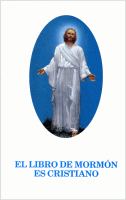 El Libro de Mormon es Cristiano, por Don Landon
Este folleto explica porque hay una gran necisidad de agregar un testigo para Jesucristo joy en día. También demuestra que las ensenanza de la Biblia y el Libro de Mormón entán en armonía. 20 páginas.
The Book of Mormon Is Christian, by Don Landon. This tract explains why there is a great need for an added witness for Jesus Christ today. It also shows that the teachings of the Bible and Book of Mormon are in harmony.