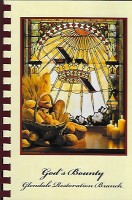 God's Bounty (Cookbook), by Women's Department of Glendale Restoration Branch
Over 600 delicious recipes that include appetizers and beverages, soups and salads, vegetables, main dishes, breads and rolls, desserts, and other miscellaneous recipes. 
In addition, there are cooking helps, tips for healthy eating and losing weight, and information on understanding food labels and food safety guidelines.
Sprinkled throughout the pages are inspirational scriptures, sayings, and poems to feed the soul. 334 pages.