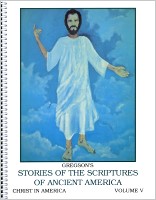 Gregson's Stories of the Scriptures of Ancient America: Volume 5 (Christ in America)
By Louise Clark Gregson. Written simply and in a clear language so that both young and old can understand, this book contains the story of the ancient inhabitants of the American continent as recorded in the Book of Mormon. 
Volume 5 contains the beautiful story of the miraculous knowledge of Christ's birth, as well as His visit to the people on the American continent after His death.  It is known as "The New Testament of the Book of Mormon."  The stories are from the books of 3 Nephi, 4 Nephi, Mormon, the Words of Mormon, and the book of Moroni.  Included are 71 stories, six charts, and four full-color original pictures.  New spiral-bound edition. 184 pages.

NOTE:  If you wish to purchase a full set of the five books in this series, see product #90106050.  Purchased separately, the cost is $32.50.  Purchased as a set, the cost is $27.50--a savings of $5.00.