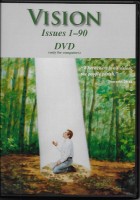 Vision Issues 1-90 (DVD for computer)
Vision issues 1-90 are available on DVD (for computer only) in searchable full color PDF format. This is an excellent tool for research or just enjoying the hundreds of articles from past Visions. A menu is included so you can select to open each Vision, or you can search all Visions for articles containing specific words, including author and title. You may print either the entire Vision issue or any of the pages you wish. This DVD will work on both PCs and MACs. The computer must have a DVD reader and Adobe Reader (free) software.
NOTE:  There is now an updated DVD that includes Vision issues 1-100.  It sells for $12.50.