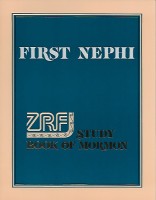 First Nephi
Originally published as the first volume of a study Book of Mormon, it is arranged in a poetry-like style so it is easy to identify Hebrew forms of poetry (chiasms, for example).  It contains an outline of the First Book of Nephi, an explanation of who the author is, what is in the narrative, and background information.  
Notes at the bottom contain important information about the text--explanations of what it says, explanations of the Hebraisms used, historic information, etc.  
At the back is a textual comparison chart, as well as a topical index.  75 pages.