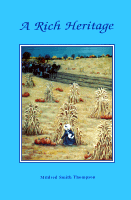 Rich Heritage, A, by Mildred Smith Thompson
This book begins with a pioneer family in Indiana (Reuben and Mary Martin) who found the Gospel in Joseph the Martyr's day, and ends with their descendants today in Independence. It tells of their trials, blessings, miracles, and their humorous and lighthearted stories as well. This is a delightful book for children of all ages.
The cover is a painting by Nancy Harlacher, who is a descendant of the family told about in this book. It illustrates one of the stories in the book when Nancy's great-great grandmother, Amanda, was protected from the mob.  Included also are family pictures, as well as other drawings of Nancy's to illustrate the stories told.  A must-have for everyone's library. 117 pages.