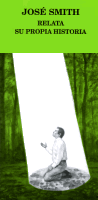 Jose Smith Relata Su Propia Historia
Se compone de algunos extractos tomados de la extensa y detallada historia recopilada por José Smith, y refiere en sus propias palabras algunos de los acontecimientos importantes que condujeron al establecimiento de la Inglesia. (La historia original se halla publicada en Times and Seasons tomos III y IV, Nauvoo, Illinois EE. UU.) 35 páginas.
Joseph Smith Tells His Own Story. Joseph's account of the First Vision, the coming forth of the Book of Mormon, and the first ten years of Church history. It is reprinted from the Church's periodical Times and Seasons (volumes 3 and 4) published by Joseph Smith and others at Nauvoo, Illinois, 1839–1846. 35 pages.