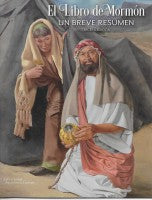 El Libro de Mormon Un Breve Resumen, by Book of Mormon Foundation
El Libro de Mormon es un compendio de escrituras sagradas antiguas que tratan sobre las relaciones entre Dios y tres pueblos a quienes El habia traido el Nuevo Mundo. 31 paginas.
This is the Spanish version of the enlarged edition of "Book of Mormon Overview." Many important topics related to the Book of Mormon are discussed: "What is the Book of Mormon?," "Records of the Book of Mormon," "Spiritual Highlights of the Book of Mormon," and others.  A synopsis of each of the books is also included.  Beautifully illustrated in color. (Also available in English.) 31 pages.