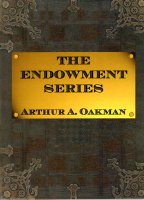 Endowment Series, The, by Arthur A. Oakman (book)
This is a transcript of the sermons given to members of the Melchisdec Priesthood by Arthur A. Oakman in October 1966 at the Stone Church in Independence, Missouri. Only minimal editing was done. This book includes all six sermons:
"Our Spiritual Universe"
"A Spiritual View of History"
"The Holy Spirit and the Church"
"Gifts of the Spirit"
"Angelic Ministry"
"Toward Spiritual Endowment"

An index has been added for ease in searching for a particular name or topic. Produced by Paul V. Ludy and Associates. 144 pages.