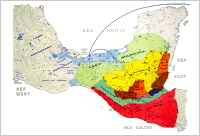 Book of Mormon Lands (map), by Glenn A. Scott Jr.
This 35.5" x 23.5" map in full color identifies major and minor sites before and after A.D. 385.
*Note: The additional cost for mailing the map in a tube is for the cost of the mailing tube plus the extra cost for postage.