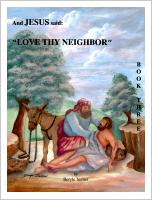 And Jesus Said (#3): "Love Thy Neighbor," by Beryle J. Immer--NEWLY REDUCED PRICE!
A beautifully illustrated children's book with lessons on "Love as I Have Loved You," "Love Thy Neighbor," "Forgive One Another," and others. Inside are twenty-two brightly colored pictures illustrating the lessons and three hymns, including "I'll Be a Sunbeam," "Happy the Home When God Is There," and "Loving Each Other."  72 pages.
SPECIAL OFFER:  If you purchase Volumes 1-6, you get Volume 7 free!