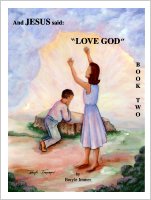 And Jesus Said (#2): "Love God," by Beryle J. Immer--NEWLY REDUCED PRICE!
This book contains scriptural texts pertaining to the commandment to "Love God." They include "Worship God," "God Created All Things," "I Am He," "Judgment Is Mine," "I Am the Resurrection," and more.  Over 20 beautiful full-page colored pictures and three hymns are included.  Hardcover. 71 pages.  
SPECIAL OFFER:  If you purchase Volumes 1-6, you get Volume 7 free!