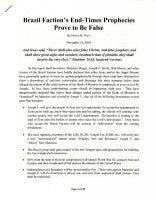 Brazil Faction's End-Time Prophecies Prove to be False, by David M. Price
This 27-page booklet exposes the false claims of the Brazil Faction regarding what is to occur
before
the alleged translation of the sealed portion of the Book of Mormon is completed, or even viewed, by Joseph F. Smith.  Five of the nine declarations include:
(1) The people of Zion will be given one last opportunity to accept Joseph F. Smith's calling to be the prophet before they are visited with great devastations on the land of Zion.
(2) The most righteous members of the different groups will be united into a new "reconstructed" church under Joseph F. Smith and Mauricio Berger.
(3) The Brazil group will gain control of the Temple Lot.
(4) ISIS will start World War III and almost destroy all of the U.S.
(5) Independence and Jerusalem will be destroyed by fire.
All nine of the events listed in this booklet were to have transpired by the end of summer 2018.  27 pages.