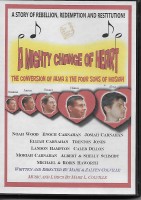 Mighty Change of Heart, A, by Mark L. Colville (DVD)
"The Conversion of Alma and the Four Sons of Mosiah."  This is an original musical drama presented by the Buckner Restoration Branch.  It was written and directed by Mark and Zalfen Colville, with seven original songs composed by Mark L. Colville.  
The drama, taken from the Book of Mormon, recounts the experience of Alma (the son of Alma), beginning with his wickedness, along with the wicked deeds of the four sons of Mosiah.  It presents their miraculous conversion experience and shows how they went about trying to repair the damage they had done to the Church of God.  40 minutes.