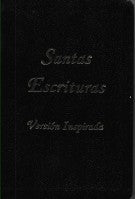 Santas Escrituras: Version Inspirada, by Tandyland
Version Inspirada De Las Santas Escrituras. Incluyendo: El completo Viejo Testamento y Nuevo Testamento. 
 
This is a Spanish translation of the Inspired Version of the Bible. It contains both the Old Testament and the New Testament. It was printed on nice heavy paper with a larger-than-usual font for easy reading.  It includes three colored ribbons and has a black soft-bound cover with gold lettering.  It includes 2100 footnotes containing scripture cross- references, translation notes, and explanatory material.  Produced by Tandyland Ministries, Inc.  1509 pages.