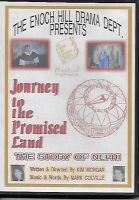 Journey to the Promised Land (DVD), written by Kim Morgan; music by Mark Colville
The play, "Journey to the Promised Land," was written and directed by Kim Morgan and performed at the Enoch Hill RLDS congregation in 1988.  The words and fully orchestrated music were written by Mark Colville.
The play (and songs) were based on the story of Lehi and his family in the Book of Mormon. It tells of how they were told to leave Jerusalem and what transpired on their journey to the land of promise.  
(This DVD is a copy of the video that was taped during an actual performance of the play in 1988.)  Running time:  about 2 hours.