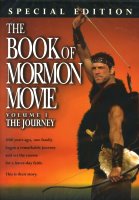 Book of Mormon Movie, The (Volume 1: The Journey); DVD
The Book of Mormon comes to life in this movie version of the true story of Lehi and his family. Their trek across the Arabian Desert brings them to the sea where God commands they build a ship to carry them to the Promised Land. Obtaining the records from Laban; Ishmael and his family who join them; the faithfulness of Lehi and Nephi; the rebellion of Laman and Lemuel; and their adventures as they travel to the Promised Land are well portrayed. Breathtaking cinematography and vibrant visualization. Available in DVD and VHS. Approximately 120 minutes in length. Rated PG.
Note:  No Volume 2 was produced.