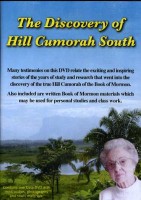 Discovery of Hill Cumorah South, The (Data DVD for computer)
Produced by Palenque Press.  This DVD contains
audio recordings
 in mp3 format of testimonies regarding the discovery of the true Hill Cumorah (South) of the Book of Mormon. 
Note that this is not a video. 
Besides testimonies by Sister Verneil Simmons and others, it contains two lectures delivered at the Book of Mormon Foundation in 2002, as well as other classes.  
There are also photographs, reports, and other study materials that relate to varied Book of Mormon topics, as well as testimonies about the records that remain in the library that Mormon left in Hill Cumorah [see Mormon 3:3-8].  An index in PDF format is included.