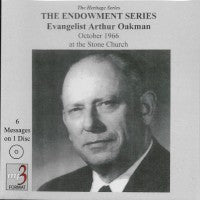 Arthur A. Oakman (Apostle/Patriarch)--Endowment Series (CD-MP3 format)
NEW FORMAT AND LOWER PRICE!
The six-lecture Endowment Series, which originally sold for $38, is now on a single CD in MP3 format.  It contains the full six lectures to the priesthood as is found on the original six CDs.  These include:
"Our Spiritual Universe," "Spiritual View of History," "The Holy Spirit and the Church," "The Gifts of the Spirit," "Angelic Ministry," and "Toward Spiritual Endowment."
(It is also available on a USB Flash Drive.  See Product #90105066)