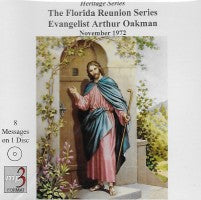 Arthur A. Oakman (Apostle/Patriarch) Florida Reunion Series (CD-MP3 Format)
NEW LOWER PRICE AND FORMAT!  
This is the same item we sold in the past on eight CDs for $44, but it is now on 1 CD in MP3 format.  (NOTE:  Most CD players in cars have this format.  Some of the older portable CD players may not accept the MP3 format.)
This CD includes all of the sermons in Brother Oakman's original series:
"God Is," "Seek Ye the Kingdom," "Man's Belief in God," "Open My Eyes, O Lord," "God's Great Love," "Be Obedient Servants," "Hear Ye Him," and "Rise Up O Men of God." Each sermon is about 50 minutes in length.
Also available on a USB Flash drive.  (See Product No. 90105070)