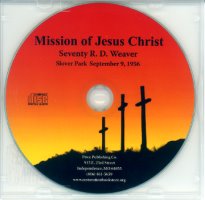 R. D. Weaver (Seventy)--Mission of Jesus Christ (CD)
Now available in CD.
This sermon was preached at the Slover Park Congregation in Independence, Missouri, on September 9, 1956. Seventy Weaver was a minister blessed with the gifts of preaching and warning souls.
NOTE: This sermon is very similar in content to Seventy R. D. Weaver's "Beware of False Prophets."