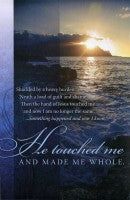 He Touched Me (General Bulletin)
A lovely bulletin with the words from the song, "He Touched Me":
Shackled by a heavy burden
'Neath a load of guilt and shame
Then the hand of Jesus touched me
and now I am no longer the same.
...Something happened and now I know,
He touched me and made me whole.
Pictured with the above words is a body of water with boulders along the edge, and just above the horizon is the sun peaking out through the clouds.  Package of 100.