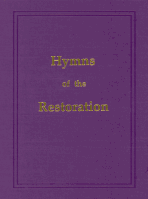 Hymns of the Restoration (2007 Piano Edition), by Restoration Hymn Society
NOTE:  This is the purple Hymns of the Restoration (2007).
In addition to the hymns previously printed in the original Hymns of the Restoration (1985), many precious hymns from earlier hymnals have been added to this 2007 edition. Also included are hymns written by present-day Restoration authors and composers, which have not been previously published. The hymnal contains hymns that reflect the beliefs of the Saints according to Christ's Restored Gospel. There are indexes for Authors and Translators, Composers and Arrangers, Restoration Authors, and a Topical and Alphabetical Index. This loose-leaf piano edition has a purple hardcover with gold lettering. 552 hymns.
---
Gold Name Imprinting:
After you have added the above Scripture book to the shopping cart, if you desire to have a name imprinted in gold in the lower right-hand corner of the book, you may request name imprinting. When you click this link, an imprinting page will load in a new tab.  On that page, type in the name, select the font style, and add the imprinting request to the shopping cart.
NOTE: If you want imprinting on two or more Scripture books, you will have to add each one separately to the the shopping cart, with imprinting chosen for each.